Chicago Direct to Film (DTF) Printing Services
DTF stands for "direct-to-film" in printing. DTF Printing is revolutionary, as it combines a heat transfer element with a direct to transfer printer to bring your designs to life.
Direct to Film (the meaning of DTF) is a process where you print an artwork on a special film and transfer said film onto fabric or other textiles. It's heat transfer process that provides similar durability to traditional silkscreen prints.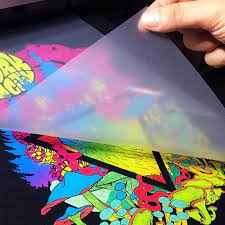 Compared with screen printing, DTF printing can be less expensive. For small batch orders, the unit printing cost of DTF printing is lower than the traditional screen printing process.
Why is DTF growing in popularity?
DTF printing offers greater versatility than other printing technologies. DTF enables printing on various fabrics, including cotton, nylon, rayon, polyester, leather, silk, and more.
DTF printing has revolutionized the textile industry and updated textile creation for the digital era. The process is straightforward: digital artwork is created, printed on the film, then transferred onto the fabric.
More advantages of DTF printing:
Pretreatment of fabric isn't required
Awesome print quality
Compatible with many types of material
Unmatched quality and high productivity
Screen printing and DTF printing have their own advantages and disadvantages. The right choice depends on your purpose and what you want to print. Both screen printing and DTF printing are suitable for many types of printing operations. The ideal method depends on factors such as print content, material and quantity.
Question – no problem, just contact us.